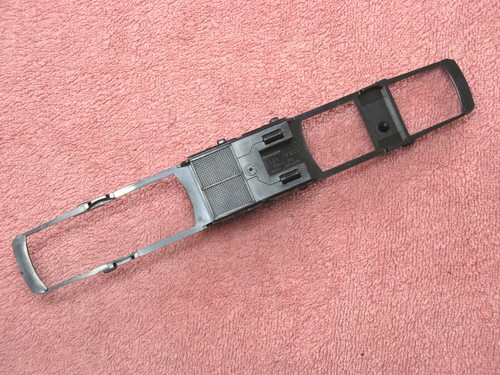 Item specifics
Condition:
Used:

An item that has been used previously. See the seller's listing for full details and description of any imperfections. See all condition definitions- opens in a new window or tab

Seller Notes:
"

OVERALL ITEM CONDITION: - VERY GOOD (+) ... ADDITIONAL COMMENTS: - some light trace/surface marks here & there; even so, in very good and clean/tidy condition. Please see ZOOM IMAGES for details. PLEASE REFER TO MY OWN SHIPPING DETAILS (PROVIDED BELOW AFTER THE MAIN ITEM DESCRIPTION) FOR MORE ACCURATE INTERNATIONAL AIRMAIL TARIFFS

"
Chassis Frame for
BR Class 37 Diesel Locomotive


Complete with internal weight


PLEASE NOTE: This chassis is the type WITHOUT a bodyshell fixing end lug

Non-UK Buyers:

Worldwide airmail shipping costs are provided immediately after the listing details

All Buyers:
Please Notethat weDO NOTship toPO Boxaddresses

Multiple Purchases:

We will always provide shipping discounts on multiple purchases whenever we can - but please bear in mind that occasionally overall shapes, weights & values can make combining items economically non-viable

- ! -
THE CONDITION OF THIS ITEM IS DESCRIBED AS FOLLOWS:

OVERALL ITEM CONDITION: -VERY GOOD(+)

ADDITIONAL COMMENTS:-some light trace/surface marks here & there; even so, in very good and clean/tidy condition
BOX:-unboxed - but will be securely parcelled

Please refer to theSpecific Condition Classificationsprovided below for further definitions:


MINT- item in perfect condition
EXCELLENT- item in extremely good condition with only very few very minorimperfections
VERY GOOD- item has very few minor imperfections (eg: occasionallight surface mark, occasional light trace mark, minimal cosmetic wear) but is,otherwise, in very sound and presentable condition
GOOD- item is obviously used and has a number of mainly lightimperfections (eg: may have surface marks, trace marks and/or some handling/cosmetic wear) butis, otherwise, in sound condition
FAIR- item is well used and has general light to mediumimperfections (eg: may have surface marks, trace marks, handling sheen, cosmetic wear/tarnishing, minor damage and/or lightsoiling) but is, otherwise, in reasonable/basically sound condition
POOR– item is well used/worn, may include moderate to heavysoiling; light to moderate damage likely, best considered forRESTORATION,SPARESorREPAIR
PLUSorMINUS– used after a classification indicates thatthe item is either slightly better or slightly worse than the classificationsuggests
ALL ITEM DESCRIPTIONS ARE TO BE USED IN CONJUNCTION WITH THELARGE PICTURES PROVIDED
Offered as described and shown.
-
*****
BUY IT NOW FOR
ONLY
£14.99p
WITH FREE UK SHIPPING

*****
-
Please see the photograph(s) for further details.
Thank you for your interest.
*** Happy Bidding ***
-
PLEASE READ ALL SHIPPING DETAILS VERY CAREFULLY
UK SHIPPING: FREE

MyHermes- (Tracked & Insured)- EXCEPT - Some Flats/Apartments & Postcodes IM, HS and ZE

Some Flats/Apartments & Postcodes IM, HS, ZE- Royal Mail 2nd Class
AIRMAIL SHIPPING (Royal Mail):
EUROPE, SCANDINAVIA & RUSSIA-Tracked- £12.99
USA,CANADA, AUSTRALIA & NEW ZEALAND-£11.99
REST of the WORLD- Tracked -£16.60
-

All non-UK buyers, please await invoice before making ment
.
-
-

PLEASE NOTE THAT WE:
OFFER COMBINED SHIPPING WITH SHIPPING DISCOUNTS WHENEVER WE CAN ON MULTIPLE PURCHASES
(Please await invoice and please be aware that sometimes the awkward shapes of parcels and their overall weight and value makes combining them economically non-viable)

PROVIDE SECURE, QUALITY PACKAGING AT LOW COST

INCLUDE INSURANCE IN OUR P&P/SHIPPING COSTS
WORK HARD TO PROVIDE TOP QUALITY CUSER SERVICE

PROVIDE FULL CUSER SUPPORT IF THINGS GO WRONG
-

UNFORTUNATELY, WE AREUNABLETO OFFER COLLECTION IN PERSON

-

*!*!*!*!* *!*!*!* *!*!*!*!*
-
AVALON ENTERPRISES
Model Railways
TERMS AND CONDITIONS
LISTING DETAILS
Weaim to provide an honest description of all items listed with nointention to mislead buyers or misrepresent items. Should there beany problem with any aspect of your trade with us then please let usknow by e-mail and we will do our very best to resolve the matter.

PARCELLING, SHIPPING AND INSURANCE
Allitems are very carefully parcelled and, to facilitate speed ofdispatch, most items are parcelled before the end of the auction.However, we always endeavour to combine items to help reduce P&Pcosts where there are multiple purchases.
Unless otherwise stated, all items carry postal insurance within the P&P costs.

DELIVERY OF ITEMS
Itemsare usually posted within 24 hours of cleared ment and an e-mailsent to the buyer to confirm receipt of ment and dispatcharrangements.
Any problems with the delivery of items (ie: loss,delay, damage) should be reported to us as soon as possible. (Where anitem is delayed, please allow for a reasonable time to elapse beforemaking contact).


FEEDBACK


Wedo not consider a trade to be completed until the item/s won have beenreceived, any problems have been resolved and the buyer has informed usTHROUGH THE FEEDBACK PROCESS* that all is well.
*Feedbackis optional and we reserve the right, in some instances, not toexercise this option. In most cases, though, once we know that thetrade is satisfactorily completed we will leave feedback by return.

NON MENT FOR ITEMS WON

Sometimesproblems arise which create ment delays. Where this may happenplease inform us of any difficulties as soon as possible. No one likesto be left in the dark. We will be patient and helpful.

MENT OPTIONS AND REQUIREMENTS

1.PAL- In GBP/Sterling only(Please note that pale-chequesmay take up to TEN days to clear)




BY BIDDING ON THIS ITEM YOU ARE ACKNOWLEDGING AND AGREEING TO THE ABOVE TERMS AND CONDITIONS
***** ***** *****

IS A GREATIDEA AND MUCH FUN, ESPECIALLY WHEN EVERYTHING RUNS SMOOTHLY. NO-ONELIKES TO BE MESSED ABOUT SO, IN ORDER TO ENJOY IT TO THE FULL AND TOSAVE ALL CONCERNED A LOT OF HASSLE, PLEASE HONOUR ANY WINNING BID THAT YOU MAY MAKE.
---
---
Track Page Views With
Auctiva's FREE Counter
There are currently no product reviews.