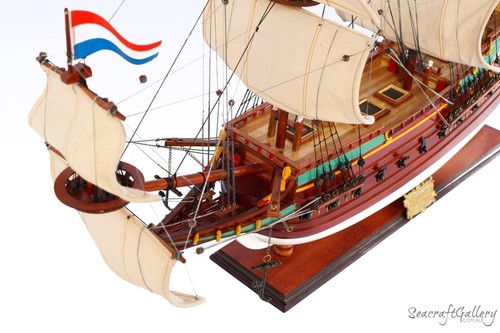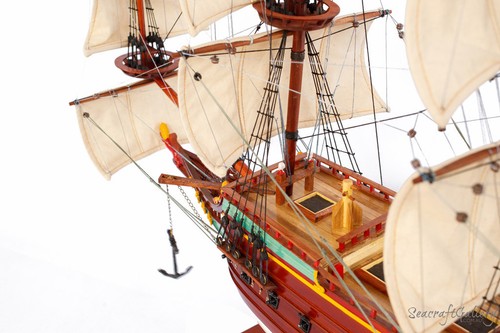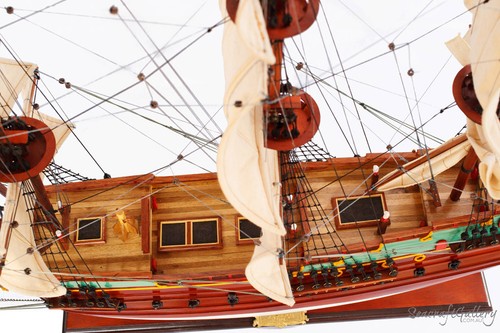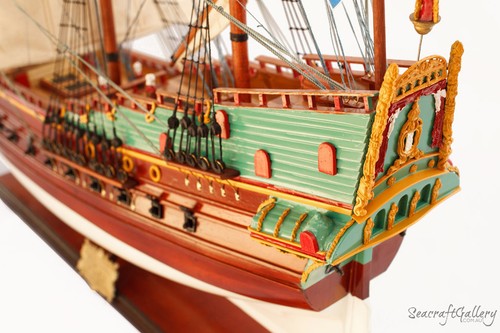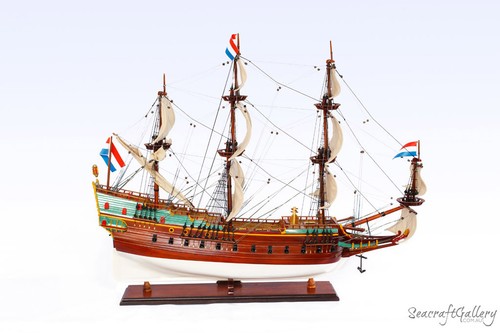 Item specifics
Condition:

New:

A brand-new, unused, unopened, undamaged item (including handmade items). See the seller's

... Read moreabout the condition

Brand:

Seacraft Gallery
Contact Us
All Items | New Arrival | Ending Soon | Items On Sale
Home About Us Delivery Returns Terms Contact Us Add Us
Store Categories
Tall Ships Speed Boats Cruise Ships Sailing Boats Yachts Helicopters & Planes Cars Motorbikes Display Cases Other Novelties
Why Us
ment Options
30-Day Money Back Guarantee
NEW BATAVIA 95CM HANDCRAFTED WOODEN MODEL TALL SHIP BOAT GIFT DECORATION
click thumbnails above to enlarge
Item Description
Attention to detail and fine craftsmanship highlight this scale tall model ship replica of the famed Dutch armed trader Batavia. This tall ship model of Batavia proudly displays her historic legacy through exquisitely-crafted features whether seated upon a desk, table or shelf.
Features of the model:
Dimension approximately: 95cm L x 20cm W x 78cm H
This model is assembled and ready to display
Entirely hand built by using individual wooden planks in hull construction
We use the high quality wood in constructing and ensuring the model will withstand with climate change.
Anchors, decorative fixtures and intricate details are sculpted of metal
Sails are handmade of fine linen and rigging lines vary in texture
Handcrafted according to scale through original plans and pictures
This model comes with a solid wood base, a metal name plate.
History
On October 29, 1628, the newly built Batavia, commissioned by the Dutch East India Company, sailed from Texel for the Dutch East Indies to obtain spices. It sailed under Commandeur and "opperkoopman" (senior merchant) Francois Pelsaert, with skipper Adriaen Jacobsz. These two had previously encountered each other in Surat, India. Although some animosity had developed between them there, it is not known whether Pelsaert even remembered Jacobsz when he boarded Batavia. Also on board was the "onderkoopman" (under merchant) Jeronimus Cornelisz, a bankrupt pharmacist from Haarlem who was fleeing the Netherlands in fear of arrest because of his heretical beliefs.
During the voyage, Jacobsz and Cornelisz conceived a plan to hijack the ship, which would allow them to start a new life somewhere using the supply of trade gold and silver then on board. After leaving South Africa, where they had stopped for supplies, Jacobsz deliberately steered the ship off course away from the rest of the fleet. Jacobsz and Cornelisz had already gathered a group of men around them and arranged an incident from which the mutiny was to ensue. This involved attacking a young female passenger on board in order to provoke Pelsaert into disciplining the crew. They hoped to paint his discipline as unfair and recruit more members out of sympathy. However, Pelsaert made no arrests and the mutineers were forced to wait.
On June 4, 1629 the ship struck a reef near Beacon Island, part of the group of islands and reefs termed the Houtman Abrolhos off the Western Australian coast. Of the 341 on board, 38 were passengers including women and children; most were transferred to nearby islands in the ship's longboat and yawl, but 40 drowned. An initial survey of the islands found no fresh water and limited food (sea lions and birds). Leaving 268 people behind, a group comprising the captain, senior officers, Francisco Pelsaert, a few crewmembers, and some passengers, left the wreck site in a thirty-foot longboat (a replica of which has also been made) in search of drinking water. After an unsuccessful search for water on the mainland, the group headed north to the city of Batavia, now Jakarta. This journey, which ranks as one of the greatest navigation feats of the day, took thirty-three days and all aboard survived. After their arrival in Batavia, Pelsaert was sent back to rescue the other survivors. He arrived at the site two months after leaving Batavia on the vessel Saardam, only to discover that a mutiny had taken place.
Jeronimus Cornelisz was well aware that if the longboat party ever reached Batavia, Pelsaert would report the impending mutiny and Jakobsz would put the blame on him. Therefore, he made plans to hijack any rescue ship that might return, and seek a safe haven with that. He even made plans to start a new kingdom. For this, he needed to eliminate any possible opponents. Although Cornelisz never committed any murders himself, he used his powers of persuasion to coerce others into doing the dirty work for him. His followers murdered a total of 125 men, women, and children, after moving a group of soldiers led by Wiebbe Hayes to a nearby island (West Wallabi) under false pretenses.
Pelsaert arrived just as Cornelisz's men were trying to eliminate the remaining group, and the combined force captured the mutineers after a short battle. After a brief trial the worst offenders, including Cornelisz, were executed on the island. Two young sailors, considered only minor offenders, were marooned on mainland Australia, never to be heard of again. Reports of unusually light-skinned Aborigines in the area by later British settlers has been suggested as evidence that the two men might have been adopted into a local Aboriginal clan. However, numerous other European shipwreck survivors, such as those from the wreck of the Zuytdorp in the same region in 1712, may also have had such contact with indigenous inhabitants.
The lesser offenders were tried in Batavia where most were executed after being punished by flogging, keelhauling and being dropped from the yard arm. Cornelisz's second in command was broken on the wheel. Despite being tortured, Jakobsz did not confess to his part in planning the mutiny, and thereby escaped execution due to lack of evidence. What finally happened to him is not known, but it is suspected that he died in prison in Batavia. Pelsaert was held partly responsible for what happened because of lack of authority. Wiebbe Hayes was promoted. Of the original 341 on board Batavia, only 68 made it to port of Batavia, the final destination.
Packaging
Seacraft Gallery brings you the highest-quality model ships found anywhere. As model-ship experts, we provide professionally designed and prepared packaging for your model. We know how important it is to you that your model arrives in perfect condition. You can order with confidence that when you receive your model, you will love it!
The hull, front and back of the model ship rests in styrofoam and are securely surrounded by a wood frame to ensure that the model cannot move during shipping and none of the masts or booms are damaged.
The model, safely surrounded by its wood frame, is then placed inside of a heavy, industrial-strength cardboard box.
The box is marked with "This Side Up" and "Fragile" stickers to ensure that it is handled properly.
Delivery
If an order is finalised prior to 11:30am on a business day we will dispatch the goods on the same day. Any orders placed after this time will be dispatched the following working day, provided the item is currently available in stock.
As soon as your order is dispatched from our Warehouse, you will receive an e-mail including shipping confirmation and the individual tracking number assigned to your model. Check anytime to see exactly when your model is expected to arrive.
All models are shipped with insurance.If an item has been delivered, and it clearly appears damaged it is important to further investigate before you sign the acceptance of delivery. If you sign for the goods in 'Good Condition' you will not be able to process a claim.
You Might Also Like
HMS Victory painted 75cm
Riva Aquarama 70cm
Queen Mary 2 80cm
Australia II Yacht 40cm
There are currently no product reviews.
Complete The Look